WEEKEND PREVIEW

UBC THUNDERBIRDS

(13-8-3,

18-9-3-1

, OHT35 #16)


MANITOBA BISONS

(15-5-4,

18-7-4-1

, OHT35 #5)
Friday, February 1st, 7:00 p.m. CST @ Max Bell Arena, U of M
Saturday, February 2nd, 7:00 p.m. CST @ Max Bell Arena, U of M
Live Links:


|> [

Live Stats Friday

] : [

Live Stats Saturday

]
|> [

Live Audio Saturday: UMFM 101.5

]



Manitoba Links:


|> [

U of M Preview Story

]
|> [

Ridley Awards

] : [

Claude Noel at Banquet

]
|> [

LS Stats

] : [

LS Schedule/Results

]
|> [

Twitter

] : [

Facebook

]



UBC Links:


|> [

UBC Preview Story

]
|> [

LS Stats

] : [

LS Schedule/Results

]
|> [

Twitter

] : [

Facebook

]



Prior Games:


|> [

Nov 16: UBC 5-2

] : [

Nov 17: UBC 3-2 (ot)

]



Other Links:


|> [

CIS Site

] : [

Schedule/Results/Links

]
|> [

CW Site

] : [

Schedule/Results/Links

] : [

Standings

]
|> [

LeagueStat Daily

] : [

CW Weekly Media Notes #14

]
|> [

Wikia.com Standings Archive

]
|> [

Every Link Re: CIS Hockey

]
All of a sudden, the final home series of the season is upon us. The Bisons cling to 2nd place, one point up on Sask. Meanwhile, UBC is one point behind 4th place Calgary. A simple look at the standings puts it all into perspective:
Code: Select all

W L OT P Feb1 Feb8
1 Alberta 19 4 1 39 Reg UBC
2 Manitoba 15 5 4 34 UBC Reg
3 Saskatchewan 16 7 1 33 Cal Leth
4 Calgary 15 9 0 30 Sask MRU
5 UBC 13 8 3 29 Man Alta
6 Regina 12 9 3 27 Alta Man
7 Mount Royal 5 18 1 11 Leth Cal
8 Lethbridge 1 21 2 4 MRU Sask
In 2011-12, Manitoba won all four home games against UBC, and Saskatchewan lost both home games against Calgary. But in the playoffs Sask beat Calgary in three lengthy games. I doubt that only 4 points will be awarded in that series.
The Bisons have had some of their worst games out in British California. But at home it has been a different story. Therefore the Bison target for the weekend is 4 points. They did suffer a 5-2 loss to UBC back on November 16th. But since then the Bisons have gone 9-1-3, the only regulation loss being 3-2 at Sask when they outshot their hosts 40-27.
In last week's preview I went over some stats, and those haven't changed much. However, a tight battle in a scoring race always add quite a touch to the late season. Here are the CW's scoring leaders:
Code: Select all

GP G A P
1 Blair Macaulay Man 24 11 21 32
2 Kyle Bortis Sask 24 10 21 31
3 Ian Duval Man 24 8 23 31
4 Jordan Hickmott Alta 24 14 16 30
5 Johnny Lazo Alta 24 11 17 28
6 Tyler Dittmer Man 22 13 12 25
7 Brock Nixon Calg 24 9 16 25
8 Walker Wintoneak Calg 24 12 12 24
9 Eric Galbraith MRU 22 14 9 23
10 Brennan Bosch Sask 22 12 11 23
11 Brad Hoban UBC 24 11 12 23
12 Sean Ringrose Alta 24 10 13 23
13 Max Grassi UBC 24 7 16 23
14 Cole Wilson UBC 21 14 8 22
I was going to stop at the top ten, but lots of guys are tied and I wanted to list UBC's big three scorers.
UBC is a capable side. They took 3 points off Sask two weeks ago. Yet they remain a vulnerable side, too. They dropped two points at home against MRU just last weekend. They are, in all respects, your usual mid-rank team. They are 4th in GA and 5th in GF, very mid-pack.
It has been a remarkable stretch for UBC. The top 4 in the CW get to host playoff series. UBC just failed in that goal last year. In fact, UBC has not hosted a series since the 1970s. They did finish 3rd in 1989-90. But that was during a period when only 4 teams made the playoffs, meaning they played away against Alberta (and lost 2-0). In 1974-75, 1976-77, and 1977-78 they finished 2nd, but that was in the GPAC era so the CW was only a 4 team league, and they lost to Alberta in each of those years. So the last time they hosted a series was 1970-71, when they hosted and beat Calgary in the semi-finals and then Manitoba in the final. The link to Wikia.com has links to all past CW standings.
The links include two additional stories from GoBisons.ca. First, 15 men's players got $750 awards from Mike Ridley's endowment fund. Maybe Stu "The Grim Reaper" Grimson will start a fund for the best fighters! Second, Jet coach Claude Noel will be the guest speaker at this year's fundraiser banquet.
This series is not listed on the CanadaWest.tv line-up. But Saturday's game is on UMFM 101.5, and on-line at the link.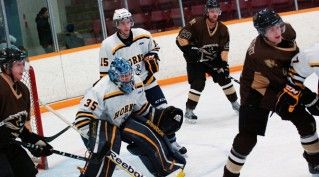 Bison action from Lethbridge last weekend.
ELSEWHERE:

CALGARY DINOSAURS

(15-9-0,

18-12-0

, OHT35 #12)


SASKATCHEWAN HUSKIES

(16-7-1,

18-8-2

, OHT35 #6)
Links:


|> [

Live Stats Friday

] : [

Live Stats Saturday

]
|> [no on-line audio or video]
|> [

U of S Preview Story

] : [reposted at

CW Site

]
|> [

U of C Preview Story

]
One would expect at least one game in this series to go into overtime. But, maybe they'll do the rest of the league a favour and decide things in regulation time. The last time they played the Bedrock Boys won 8-0 on Friday and the Banjo-Mutts took the rematch 5-4. Quite a turn-around.
Calgary is a tough call. They had a 7 game winning streak halted by the Bisons. Those 7 wins were against MRU, Lethbridge, UBC, and Regina. Still, OTWs against the Bisons and Monkeys gave them 4 points in their last 4 games.
Sask was flirting with a #1 national ranking at one time. IMO that was largely due to smoke and mirrors. They won early games against Manitoba and Alberta when they were badly outplayed. Now the worm has turned. They are 3-4-1 since Christmas, and their only regulation win came when they were outshot 40-27 by the Bisons but won 3-2. Their record could be much worse. They will be in the nationals as host. But they need to pick it up a notch otherwise they will be entering the nationals after about a month of inactivity.

REGINA COUGARS

(12-9-3,

13-15-3

, OHT35 #20)


ALBERTA GOLDEN BEARS

(19-4-1,

30-4-1

, OHT35 #1)
Links:


|> [

Live Stats Friday

] : [

Live Stats Saturday

]
|> [

Live Video both nights

]
|> [

U of A Preview Story

] : [

U of R Team Site

]
The Evil Monkeys have a 5 point lead over the Bisons so may not be feeling a great sense of urgency in this series. The Banjo-Cats looked like crap when I saw them (twice), yet their results have been solidly mid-pack against everybody else. Also, the Kittens have guaranteed themselves a playoff spot. Will they continue to play with the edge they need to cause an upset?
LETHBRIDGE PRONGHORNS

(1-21-2,

3-26-2

, OHT35 #35)


MOUNT ROYAL COUGARS

(5-18-1,

6-20-2

, OHT35 #30)
Links:


|> [

Live Stats Friday

] : [

Live Stats Saturday

]
|> [

Live Video both nights

]
|> [

MRU Team Site

] : [

U of L Preview Story

]
MRU has a new site. So news stories are not at a separate link from the team site. But, no preview story on it for this week.
The H0rny Ones have only one win this year - and it was against the New Kittens on the Block. These teams are both out of playoff contention. So my interest here is to see whether or not these teams look intent to close strong and maybe cost a contender valuable points next weekend.
And will Lethbridge finally get some injured players back?
OUT OF TOWN SCOREBOARD:
Links:


|> [

OUA LeagueStat Daily - Wednesday

]
|> [

OUA LeagueStat Daily - Thursday

]
Wednesday, January 30
Brock 4 UOIT 1
Thursday, January 31
Laurier 3 York 1
Queen's 7 RMC 2
Guelph 3 UOIT 6
NEWS:
The Halifax Chronicle-Herald reports that a decision on the Dalhousie case is not imminent. This must be more complicated than I thought.
Link:


|> Chronicle-Herald: [

Dal men's hockey decision not imminent

]

The CIS Blog has been slow for a while but business was picking up this week, with an AUS Update.
Link:


|> CIS Blog: [

AUS Update

]
It looks like TRU is happy being in the BCIHL and is not interested in moving to the CIS. Good idea. While I would like there to be more teams in the CW, hockey as a whole needs the BCIHL.
Link:


|> The Omega: [

WolfPack Athletics introduces new CIS programs

]

The CUP has a story about the off-field problems in the CIS with hazing, drugs, and eligibility issues (a big problem in football every year). IMO, too many rules exist on eligibility issues. One set of rules for all sports would help as well.
I normally couldn't give a crap about CIS front office appointments. But the Mop & Pail story had this little blurb:
[Pierre] Lafontaine outlined his priorities as building the CIS brand and raising the profile of the organization and national championships.

One of his first priorities will be to land a new national television deal for the CIS.

The Vanier Cup national football championship is always broadcast live, but national TV coverage in other sports is almost non-existent.

Richard Peddie, the former CEO of Maple Leaf Sports & Entertainment, is a CIS board member at large who has been working to secure the organization a new television deal.

In an interview earlier this week, Peddie said that a new TV deal is almost in place but he was not ready to divulge any details yet pertaining to it.

"It will be a great deal for college sports in Canada," Peddie said. "It's a huge home run for them."

Peddie said the new deal will not only increase television coverage of a broader range of men's sports, but women's university sports as well.

A CIS source said that the organization is on the verge of announcing that this year they have a deal in place for live national TV coverage of the women's basketball championship in Regina, the men's Final 8 in Ottawa and the men's hockey championship in Saskatoon.
It never hurts to get some heavy hitters behind the program.
And, as usual, the only press release about hockey from the CIS was the latest official top ten (which is not as good as the OHT35).
Links:


|> Canadian University Press: [

CIS athletics departments slipping ...

]
|> Globe and Mail: [

Pierre Lafontaine named new head of CIS

] : [

CIS Press Release

]
|> CIS Top Ten: [

CIS Press Release

] - reposted at [

CW Site

]