MORE NEWS AND LINKS:
[
Saskatoon Star-Phoenix: Sask weekend preview
] - It is good they have a full preview story and here's a quote:
They will host at least one playoff series at home, whether that's a Canada West quarter-final or Canada West semifinal.

The University of Saskatchewan Hockey Huskies can't worry about all these different scenarios, says head coach Dave Adolph.

"For the last 10 years, we've always worried about somebody else — the Bears — or something else," Adolph said Thursday. "All we've got to do is just start playing our game, if everybody plays the same way. We played really well, for the first time in a long time, in B.C. last Saturday night (5-0 win) and we've just got to keep playing that way.
[
The Manitoban: U of M Makes a Robot
] - In a few years time we'll have men's, women's, and robots divisions in the CW. I'll bet a team of Manitoba Robots would kick the crap out of a team of Alberta Evil Monkeys.
Programmers working at the Autonomous Agents Laboratory may have developed the world's first humanoid-robot ice-hockey player.

Chris Iverach-Brereton, a computer science graduate student at the U of M, has been programming Jennifer — a DARwin open platform named after Canadian hockey player Jennifer Botterill — for less than a month.

Thus far the robot is capable of taking a shot, stick handling and taking rudimentary strides on some makeshift skates. She makes her moves with a miniature Bison hockey stick.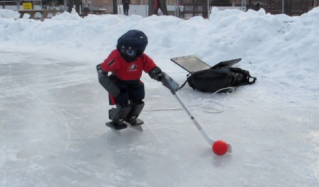 [
Winnipeg Free Press: Caligiuri Athlete of the Week
] - The story was a bare-bones announcement.
[
Edmonton Journal: Hunter's first pro season a success
] - The former Monkey and Headingley native is playing for the Lake Erie Monsters of the AHL this year.
[
LINKS
] - Every link you need to follow CIS hockey is at this link. Included are league, team, media, and stats sites.
OUT OF TOWN SCOREBOARD:

ST. FRANCIS-XAVIER X-MEN

0


MONCTON AIGLES BLEUS

3
(Moncton leads AUS quarter-final 1-0.)
|> [Boxscore]
LAURIER GOLDEN HAWKS

2


WESTERN ONTARIO MUSTANGS

4
(WO leads OUAW quarter-final 1-0.)
|> [Boxscore]
BROCK BADGERS

2


WATERLOO WARRIORS

1
(in overtime)
(Brock leads OUAW quarter-final 1-0.)
|> [Boxscore]
YORK LIONS

4


WINDSOR LANCERS

5
(in overtime)
(Windsor leads OUAW quarter-final 1-0.)
|> [Boxscore]